Jim Brickman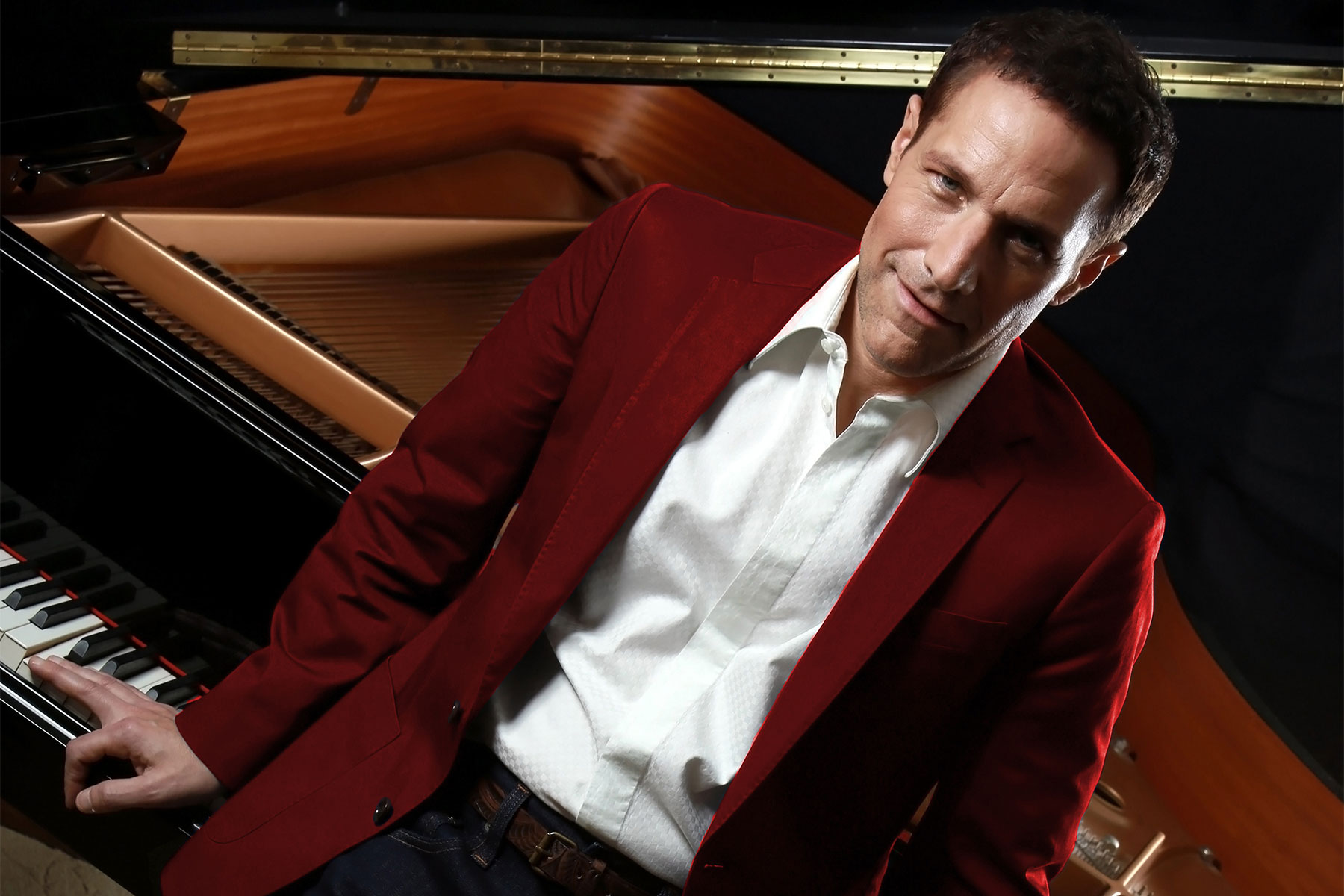 Bio
Simplicity is the heart of Jim Brickman's solo piano songs. Solo as in Jim, two hands and 88 keys. His back-to-basics musical sensibility is rooted in the core of solo piano.
Brickman's philosophy hasn't changed since his 1994 debut album No Words burst onto the music scene. US radio launched the single "Rocket to the Moon" into orbit, making history as the first solo instrumental ever to land on the pop charts.
With that, Jim Brickman transformed the popularity of solo piano playing his original, pop-style instrumentals and inviting star-studded vocal collaborators to join in. He has since become the most charted Adult Contemporary artist and best-selling solo pianist to date.
Brickman's Tin Pan Alley sensibility, uncomplicated melodies and down-to-earth nature have taken him from the Grand Ole Opry to Carnegie Hall, and Disney World to the White House. You can also hear his music on Pandora, TV commercials and shows like CBS Sports, The Kardashians, Jimmy Kimmel, The Olympics and all over HGTV.
Brickman's signature style earned him two GRAMMY nods, four Gold albums, 30 charted AC radio hits. He held the top three spots on Billboard's new age chart at one time. Brickman received top honors as two-time SESAC "Songwriter of the Year", The Dove Award presented by the Gospel Music Association and a Canadian Country Music Award.
Jim Brickman's Billboard hit list includes "Angel Eyes," "Rocket to the Moon," "Sending You a Little Christmas," "Valentine," "The Gift," "Love of My Life" and "Peace." He's been known to feature rising stars, legends and popular singers as vocal collaborators.
Brickman has filmed five concert specials presented on the PBS network: Celebration of the 70's (2013) Beautiful World (2009), Jim Brickman at the Magic Kingdom - The Disney Songbook (2005), My Romance, An Evening with Jim Brickman (2000) and Love Songs and Lullabies (2002).
Jim Brickman hosts The Jim Brickman Radio Show now in its 20th year, heard in over 80 cities across North America. The show features well-known experts focusing on entertainment, lifestyle, pop culture, health and wellness.
He has written three best-selling books, Simple Things, Love Notes and his latest Soothe - How To Find Calm Amidst Everyday Chaos.
Jim was an innovator of fan cruises and events. The Jim Brickman Cruise is a semi-annual experience attracting hundred of fans from across America. Since 2006 it has traveled to Alaska, Hawaii, New England, the Mexican Riviera and the Caribbean. The Brickman Bash, a land get-away drew fans to Nashville, his hometown of Cleveland and Niagara, Ontario.
Press Releases
August 1, 2016
JIM BRICKMAN CELEBRATES 20TH HOLIDAY TOUR with SUPERSTAR SPECIAL GUEST! Piano Sensation brings "Comfort & Joy" to Christmas Tour 2016 featuring American Idol Winner KRIS ALLEN
CLEVELAND, OH, August 1, 2016 - Christmas traditions sparkle and holiday music fills the air, as Grammy-nominated songwriter and piano sensation Jim Brickman embarks on his 30-city holiday tour Comfort & Joy.
Brickman blends yuletide memories and traditional carols with his popular songs like "The Gift," "Sending You A Little Christmas," "Angel Eyes" and "If You Believe." From Thanksgiving through New Years Eve, the ever-popular pianist will fill theatres with laughter, joy, and musical holiday spirit.
"Brickman makes magical music and evokes warm sentiments" - Billboard Magazine
Brickman's special guests for 2016 are an all-star lineup of fan-favorites including Kris Allen (2008 American Idol Winner). Allen will join Brickman premiering their brand new holiday duet "A Little Bit of Christmas" LIVE. Comfort and Joy LIVE will also feature fan-favorite, singer Anne Cochran, Broadway vocalist John Trones and electric violinist Tracy Silverman.
"I'm thrilled to welcome American Idol winner Kris Allen to this year's holiday tour. Kris is an amazing LIVE performer, and I'm looking forward to premiering our new holiday song "A Little Bit of Christmas" for fans and friends throughout the season.
Jim Brickman's LIVE concerts have become an annual holiday tradition. The gathering of family and friends, with a beautiful holiday backdrop of musical warmth and nostalgia.
Brickman combines yuletide memories and traditional carols with his popular songs like "The Gift," "Sending You A Little Christmas," "Angel Eyes," and "If You Believe."
Jim Brickman's music reminds us that faith, love and togetherness are what we value most this time of year. Join Jim Brickman and friends this holiday season and celebrate the spirit of Comfort and Joy.
Comfort & Joy - 20th Annual Holiday Tour
Friday, November 25th - Peekskill, NY at the Paramount Theatre
Saturday, November 26th - Sellersville, PA at the Sellersville Theater 1984
Sunday, November 27th - Lexington, MA at Cary Hall
Tuesday, November 29th - Sarasota, FL at the Van Wezel Performing Arts Hall
Wednesday, November 30th - Ft. Worth, TX at Bass Performance Hall
Thursday, December 1st - Pittsburgh, PA at the Byham Theater
Friday, December 2nd - Batavia, IL at the Batavia Fine Arts Centre
Saturday, December 3rd - River Forest, IL at the Dominican University Performing Arts Center
Sunday, December 4th - Springfield, MO at the Gillioz Theatre
Tuesday, December 6th - Sacramento, CA at The Crest
Wednesday, December 7th - Richfield, UT at Eccles Theater in the Sevier Valley Center
Thursday, December 8th - Denver, CO at the Paramount Theatre
Friday, December 9th - Kansas City, MO at Helzberg Hall in the Kauffman Center for the Performing Arts
Saturday, December 10th - College Park, MD at Dekelboum Concert Hall in The Clarice Smith Performing Arts Center
Sunday, December 11th - Wilmington, DE at The Playhouse on Rodney Square
Monday, December 12th - Manchester, NH at the Palace Theatre
Wednesday, December 14th - Charlotte, NC at the McGlohon Theater at Spirit Square
Thursday, December 15th - Oxford, AL at the Oxford Performing Arts Center
Friday, December 16th - Little Rock, AR at the Maumelle Performing Arts Center
Saturday, December 17th - Wichita, KS at the Orpheum Theatre
Sunday, December 18th - Lincoln, NE at the Rococo Theatre
Tuesday, December 20th - Louisville, KY at The Brown Theatre in the Kentucky Center for the Arts
Wednesday, December 21st - Columbus, OH at the Southern Theatre
Thursday, December 22nd - Cleveland, OH at Severance Hall
Friday, December 23rd - Sandusky, OH at the Sandusky State Theatre
Wednesday, December 28th - Madison, WI at the Capitol Theater at the Overture Center for the Arts
Thursday, December 29yh - Burnsville, MN at the Ames Center
Friday, December 30th - San Diego, CA at the Balboa Theatre
Saturday, December 31st - Phoenix, AZ at the MIM Music Theater
About Jim Brickman
Jim Brickman has revolutionized the sound of solo piano with this pop-style instrumentals and star-studded vocal collaborations. His signature style has brought him two Grammy nods, four certified Gold albums and 30 charted adult radio hits. Brickman received top honors with two SESAC "Songwriter of the Year" awards, a Canadian Country Music Award, and Dove Award presented by the Gospel Music Association.
Brickman's best-known compositions include the chart-toppers "Valentine," "The Gift," "Love of My Life," "Simple Things" and "Peace." He has established a reputation for his collaborations with many gifted musical artists that include: Martina McBride, Kenny Rogers, Lady Antebellum, Johnny Mathis, Michael W. Smith, Kenny Loggins, Carly Simon, Herb Alpert, Collin Raye, Michael Bolton, Sara Evans, Donny Osmond and Olivia Newton-John.
A native of Cleveland, Ohio, Brickman began playing piano at the age of five. He studied at the prestigious Cleveland Institute of Music, where a scholarship has been established in his honor, and founded his own advertising music company in 1980. Brickman has received worldwide acclaim as a performer. His concerts have been enjoyed internationally and in over 125 cities across the U.S. including shows at Carnegie Hall and the White House. Brickman is host of The Jim Brickman Show, a weekly radio show heard in over 80 cities across North America. He has authored three best-selling books and is a strong supporter of PBS with five concert specials presented on the network.
About Kris Allen
Kris Allen first picked up the guitar at age 13, after spending much of his childhood singing in church in his hometown of Jacksonville, Arkansas. Writing his first song in his late teens, he self-released an album at age 22 and auditioned for the eighth season of American Idol the following year. Several months after his Idol victory, Allen put out his major label debut, with the lead single "Live Like We're Dying" climbing to the top 20 on the Billboard Hot 100. In addition to releasing his sophomore album Thank You Camellia in 2012, he spent the next several years sharing stages with such artists as Maroon 5 and Keith Urban, as well as landing Billboard, Teen Choice and People's Choice Awards nominations.
After a head-on collision in 2013 that left the singer/songwriter/guitarist with a career-threatening shattered wrist, Allen underwent 3 surgeries, re-learned hot to play guitar and recorded his third album. The American Idol season 8 winner ultimately retreated from the whirlwind and immersed himself in a songwriting spell that yielded more than 70 new tracks. Allen's fourth full-length album Letting you In finds the Nashville-based artist delivering his most intimate and dynamic work to date.
About Anne Cochran
Anne Cochran's hit single "After All These Years," rings like a subtitle for her continuing collaboration with Jim Brickman. Cochran has been a fan-favorite in Brickman's famed holiday tour from the beginning, and has performed in hundreds of cities and theatres across the world. Cochran has guest-starred on PBS and in TV Specials, performing duets with Donny Osmond, Wayne Brady, Michael Bolton, Richie McDonald, David Cassidy, and many more. In her own right, Cochran has been known to drop in for a few sets at NYC's Birdland, and she rocks her own band at Cleveland's Cain Park summer festivals, and sold-out shows at Nighttown and On-Air Studio. Whatever the setting, Cochran's honeyed, "sultry alto and pure multi-octave range" consistently work their magic Anne's latest CD recording is her soulful tenth opus, Deeper, featuring "Rise and Shine" and "Who's Gonna Baby You," (duets with Abe LaMarca), and features her solo radio hits, "The Moment You Were Mine" and "Live In You." For the latest news about Anne, please visit www.annecochran.com.
About John Trones
Actor, musician and Broadway vocalist John Trones has become a fan-favorite to Brickman audiences, and frequently tours the US and Asia with his own brand of romantic vocals and lush crooner ballads. Trones toured with Olivia Newton-John on her recent national tour, and continues to wow audiences in performances with major Symphony Orchestras around the world. John has released five CDs and can be seen in feature film roles in Father Knows Best and StreetHassle and TV commercials for Target, Great Clips, Slumberland. He is co-founder of 8 Ball Productions producing plays, and musicals in the US and UK. John can currently be seen in "Yesterday Once More - A Musical Tribute to the Carpenters" on tour now. Visit John online at www.JohnTrones.com.
About Tracy Silverman
Hailed by BBC Radio as "the greatest living exponent of the electric violin," Tracy Silverman's groundbreaking work with the 6-string electric violin defies musical boundaries. The world's foremost concert electric violinist, Silverman was named one of the 100 distinguished alumni by The Juilliard School. Formerly a violinist with the innovative Turtle Island String Quartet, Silverman has contributed significantly to the repertoire and development of the 6-string electric violin and what he calls the "21 st century violin," inspiring several major concertos composed specifically for him, including Pulitzer winner John Adams' "The Dharma at Big Sur," premiered with the Los Angeles Philharmonic and recorded with the BBC Symphony.
Silverman's 2014 recording for Delos/Naxos Records, Between the Kiss and the Chaos, features the Calder Quartet playing his 2 nd electric violin concerto. I'd Rather Be Dreaming and May All Good Things are just 2 of many other CDs recorded over a long career. Silverman tours internationally as a soloist with orchestras, with his one-man performances, and as a collaborator with many other artists and chamber ensembles. Tracy appears on many of Jim Brickman's CDs and DVDs and has orchestrated Jim's music for full symphony. Silverman teaches at Belmont University and lives in Nashville, TN. For more information, visit www.tracysilverman.com.
Randy Alexander
President & CEO
906 Jonathan Lane
Marlton, NJ 08053
856.596.1410